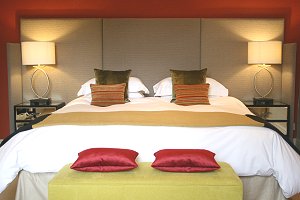 'Allcroft House Interiors has many satisfied clients.'
"I had never consulted an interior designer before, but the ensuing journey has been a wonderful experience. I greatly appreciated the way in which I was involved at all stages and how Allcroft House Interiors took into account my way of life and personality"
M Buck
"A huge thank you for all of your stunning work at the Horse & Groom. You have given us five beautiful bedrooms. The glowing feedback we have had (and continue to receive) is testament to your talents."
Tom and Will Greenstock
"... the bedrooms are devoid of chintz or designer prissiness. "
Conde Naste Traveller, May '09 - Regarding the Horse & Groom
"Thanks for everything, we are delighted with the end result. It looks wonderful and has the perfect finishing touches!"
T & D Reeve
"We have been delighted with your design, soft furnishings and the way you have carried out work - many thanks."
N & A Hayes
Interior Design . Cotswolds . Gloucestershire
(c) allcroft house interiors 2010