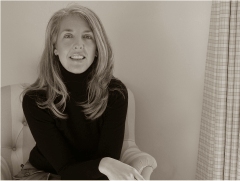 'Understand and work closely with the client to achieve a successful result for everyone.'
A Canadian by birth, Shawn Deacon is the interior designer behind Allcroft House Interiors.
Having discovered her passion for interiors at an early age, Shawn studied History of Art & Architecture at university. Design has been a part of her life ever since and in 2001 she founded Allcroft House Interiors.
With an efficient, friendly approach to her work, Shawn provides a comprehensive design service whether a single residential room or an entire commercial property developement. The fact that almost all of her work comes from repeat or referred business is testament to her effectiveness as an interior designer and project manager.
If pressed to describe her style, Shawn "likes to create understated, elegant, approachable rooms - timeless with a watchful modern edge".
Interior Design . Cotswolds . Gloucestershire
(c) allcroft house interiors 2010